This blog was supposed to be about running, but seems I have to change the subject from running to recovering from running. The achilles problems which started after my barefoot experiments haven't still gone away.
I did my last real run in Finland August 21st. It wasn't bad actually and I felt quite ok during the run and after. My legs felt ok, otherwise it wasn't ok, since I ran relatively slow less than 6k in 30min while my heart rate was at 85% of maximum. And then day after the achilles pain was back. I haven't really run after that.
Week ago I decided, that since I'm not runner anymore, better start doing something else. Since I have small home gym at my basement, I figured out that I start from there. After 30min I decided that's it for now. Then I quickly changed my mind and thought I will do one more bicep workout with dumbbells. When I was getting the dumbbells from the floor, I felt sharp pain on my lower back and couldn't almost get up.
Ok great, that's it, now I can't do any exercises at all was my first thought. It was true for a week. After seeing chiropractic couple of times, I was ok to do another 30min workout at my mini gym today.
And not only that. I went shopping couple of days ago, and bought KT tape. I was so much encouraged how my right leg felt after wearing them one day, I decided to go for a run today morning. Two months no running at all but today I did 2.75km.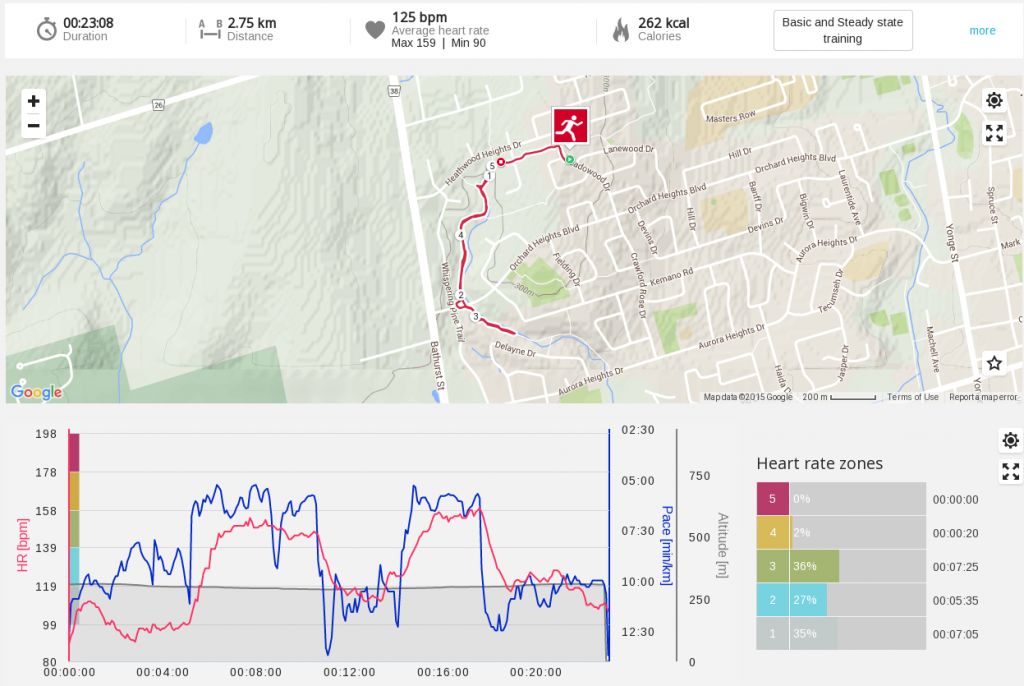 I'm taking baby steps. I have read a bit about kinesio tape and how they might help or might not help from recovering injuries. There is not necessarily a lot scientific proof they do anything, but many people seem to have been able to recover from achilles tendonitis with kinesio tape even after suffering from it for years. If it's not tape what helps with the healing process, I'm ok to use the placebo effect too.  I better believe they do help.
My leg has been quite ok as long as I haven't been walking too much and as long as I remember to do the workouts. The stretching and achilles and soleus strengthening. If I walk too much with the dog (or without), then the pain is back. If I forget the stretching and strengthening workout, the pain is there even when I'm not doing anything.
I'm not sure what helps and what doesn't. My idea has all the time been, that I should keep diary about the pain and about my workouts. I start it now.
Thursday 10/22/15:
Kinesio tape: https://www.youtube.com/watch?v=p7OAD4zIBos
Stretching after 10-15min walk (with the dog) both morning and evening: http://az675379.vo.msecnd.net/media/1356056/strengthening-leg.pdf
New achilles tendon workout morning and evening: https://www.youtube.com/watch?v=l2gubqenGDo
Jumping 2×20 times on mini trampoline
2.75km run
30min at gym
20min indoor cycling
Foam roller morning, after run and at evening.
At morning almost no pain at all.
During evening mild achilles level 2/10 and  pain level 5/10 at lower right calf.
I skipped mini trampoline jumps at evening because of the calf pain.
Healthy breakfast oat meal and banana. To make it easy to get enough protein (which should help recovering), I went for whey protein both morning and evening. Pizza for dinner 🙂
Polar loop shows 215% activity level.
I scheduled PT for tomorrow and I hope it helps for the calf pain. I rather have calf pain than achilles, but the later usually follows from the first.