It's been almost three weeks now since the Ottawa marathon, and I still haven't written a race recap. Time to start writing now…
Day before the race
Me, my wife and our four children left Aurora around 10:30am and headed to Ottawa. It was around four and half hour drive to The Health and Fitness Expo at Ottawa downtown. When we finally got near the expo around 3pm the traffic was really bad. I decided to run to the expo, so that my wife could then continue driving slowly along with the traffic and pick me up from the expo.
When I started to run, I also made a decision, that this one and half km run will be my final run before the race. I made little sprints to make it more credible even though I was running with jeans. I have to admit, I felt a bit better than day before. I wasn't still feeling optimal, but not terribly bad either.
Finally I got to the expo with printed email I had received earlier in my hand. Turned out, that the email didn't have my bib number, so I had to turn back from the desk, and find it from list of all participants in printed papers on the wall. No problem, I did find it fast, and there was not a lot queuing. Once I had my bib, I continued to validate my chip and pick my race T-shirt from 2nd floor. I was certain, that if I were fast, I still had time to buy some energy bars from the expo and then head to downstairs to wait for my drive.
My plan worked well enough, so next step was to find the "hotel". It was a bit further away. I ha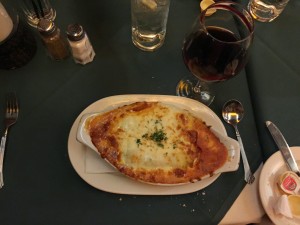 d reserved two room apartment from local college dormitory, since all hotels were sold out when I decided to register to Ottawa Marathon. Once we finally found our hotel and were able to check the rooms, it was time for last real meal before the race.
I wanted to have some pasta, so I launched Yelp smart phone application and read few reviews for nearby Italian restaurants. We decided to go to Tony Capone's which was 10 minute drive from the hotel. I'm not an expert with Italian food, but I wanted to have something with a lot of pasta in it. I ordered Cannelloni con Salsa and small glass of wine. Well, there was a lot of cheese, but not as much pasta as I hoped. Wine wasn't very small either and made me wonder if a big glass of wine is such a good idea less than 12 hours before the race.  But I enjoyed the dinner.
I wasn't still feeling 100% in shape and while checking next days weather, I noticed it's going to get to 28C (82.4F) during the day, so I was already thinking, that sub four-hour finish time is certainly not going to happen. I mentioned this also to my wife and kids. I said that they should not get to the finish line much earlier than 11am, since I will not be there before anyway. Race was scheduled to start at 7am.
I decide to set my watch to get to the goal anyway. I did read some of the marathon mistakes people do, and one was to dump the goal just before the race. So I kept the goal as is, untouched. I set the distance for 43k and time to 3:57. That way, even if there is a lot of turns, and the running distance is longer than 42.2k, I'm still able to make my goal. Pace was set to 5:33min/km. Oops, I thought, that's 7 seconds faster I have been training. Luckily I ran most of my marathon goal pace runs at 5:30min/km pace, so I was still quite well prepared.
There was a little grocery at the hotel, or college campus to be exact, so I went there and bought big jug of orange juice for a small high carb evening snack as well as sandwich for my breakfast. Then it was time to check I have everything ready for the race day and try to get some sleep.
The race day
I had my alar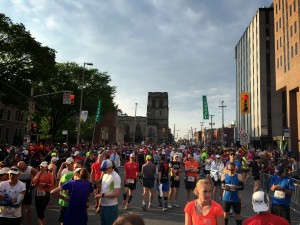 m clock set to wake me up at 5:45am, so I had enough time to have something for breakfast and to drive to near the start line of the race. I had my sandwich I bought yesterday and small glass of orange juice. I wasn't feeling bad at all, and I managed to get around four five hours of sleep, which was ok.
It was around 15 minutes drive to the downtown of Ottawa. I left car around 1km from the start line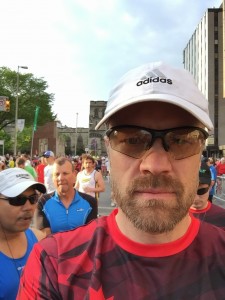 and walked rest of the trip. While walking, I had my pre-race energy bar, as I always do. I also drank just a little water.
When I finally get to the start line around 6:45am I went to look for 4 hour race bunny. I went in front of her, and just behind the 3:55 race bunny. I was on the corral I had chosen while I registered to the race. I felt I'm in wrong corral. I have always overlooked people who go to faster corrals they belong. Now I was doing the same, I was thinking. I decided not to judge people ever again for setting their goals and actually trying to achieve them by choosing corral accordingly.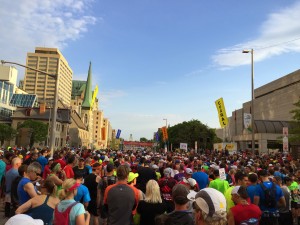 I started to go through my strategy. I didn't see 3:55 race bunny while making my plan. I saw 3:50 race bunny. I decided to stay good distance away from her, and try to keep the 4:00 race bunny behind me. I also decided, that for the first half, I try to keep my average heart rate below 158bpm. That's 80% of my max heart rate. If my heart rate goes above, then it is a good indication of running too fast. Sounds a bit like a plan, I was thinking.
I don't usually listen to music during races, but this time I decided to give it a try. I checked my phone has everything set and that I could pause and start music just by pressing the only button on my ear phones. My phone was packed tightly in arm band. Music wise everything seemed to work. Just couple of minutes to the start. Phew!
Adrenaline starts to flow. That's good, this is good, good, not nervous at all. Then start. Everything starts. First walking to the actual start line, and then I start to run with all the people around me. There's a bit of a rush, and I'm not able to run my goal pace in the beginning. I have to bypass too many people, since they don't know how to choose correct corral darned. I'm almost getting annoyed, but then I remember, that I'm probably in wrong corral my self. But then, at least I'm trying to run the correct pace for this particular corral. I'm trying to run at 5:30min/km pace.
When I cross the 5k and check my watch, I'm a little ahead of my goal time. It took about 26min to get there, and my heart rate is 158bpm. It doesn't feel bad, so I decided to continue with the same pace, which was around 5:30min/km. The 3:50 race bunny was closer to me than she was at the start line.
Before the 10k lap time, I notice that there is something wrong with my music settings. First of all, this confession is going to ruin my highly valued street credibility. I had Killers album in my playlist. For whatever reason, that's the album my phone choose to play first. It played whole album, and then it began again. I was pretty sure at the moment, that this is going to be the only album I'm going to hear during the whole race, since I don't have time to take my phone off the arm band. Well ok, I decided to stick with that as long as I could tolerate it. Great, great music!
At 10k my heart rate is still a bit below 160bpm and I have actually been able to run a bit faster. Also now I'm running just behind the 3:50 race bunny. I'm feeling excellent. Maybe it's the music. Maybe it's the carb loading. I don't know, but I'm flying. At 13k water stop, the 3:50 race bunny slows down for a drink, so I just decide to left her behind. I start to run faster. My heart rate is at 160bpm, but I'm feeling dangerously good. A little uphills don't bother me at all, on the contrary. Whilst seeing people's backs coming towards me, it gives me more self-confidence.
At 15k my pace is 5:21min/km and I feel just better and better all the time. I start to run even faster, so when I get to 21.1k, I'm very close to running my half marathon PB. I keep the 5:16min/km pace all the way up to 25k. I'm still feeling good, but it's getting a bit warmer now. I have to stop listening music. The same album over and over again is making me sick. My heart rate is way above 160bpm, but at this point it doesn't matter anymore. Last time I bonked around 26k, so I'm trying to keep the pace at least till 30k. That way I would most likely get to my goal and I would be celebrated sub 4 hour marathoner!
At 27k I can see other runners running towards us. These are the faster ones. I see 3:00 race bunny.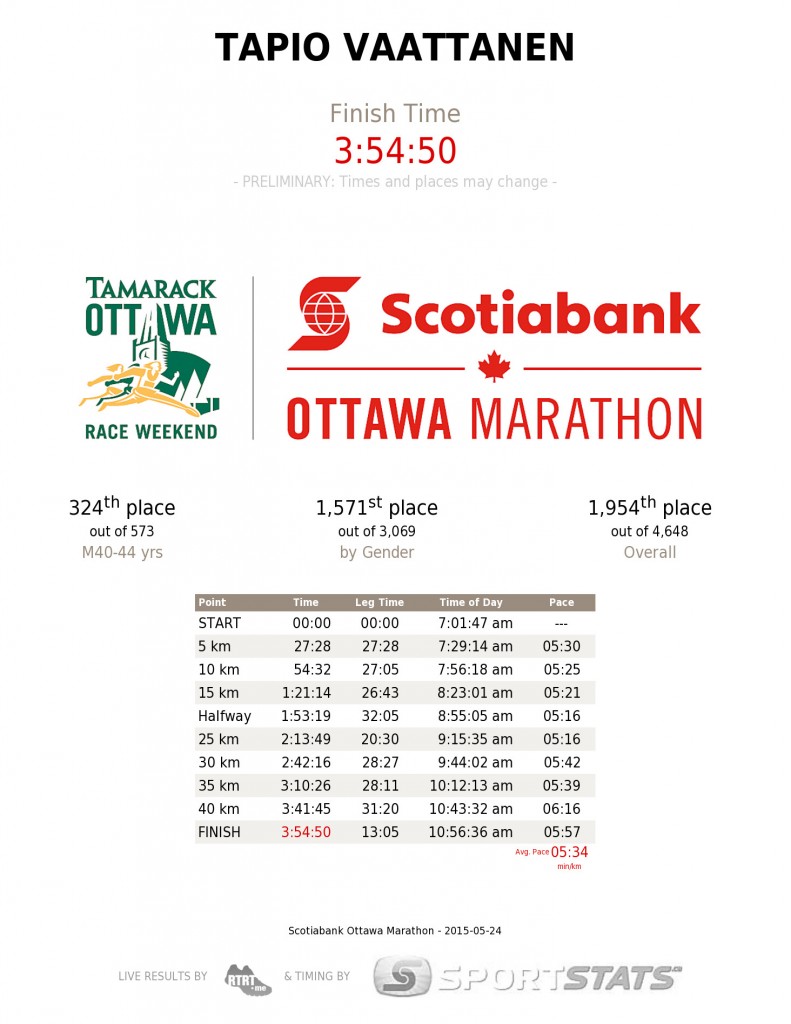 I wonder how long does it take for me to get to where he's running now. How far do we run away before we turn back. Kilometers between 25k and 35k are usually the most boring ones. Maybe it's not the route or the race, but the feeling and fatigue. This time is no different.
At 30k I'm still doing relatively well. My pace has fallen to 5:42min/km, and sun is playing her role extremely well. It's definitely not 28C, but it's getting all the time warmer. I'm starting to struggle. Even worse, 3:50 race bunny passes me. I'm trying to keep up, but at 33k she's gone. I never see her again. At 35k I check my watch. It seem I'm going to make it. I'm going to get to my initial goal. My goal #1. Sub four hours. My goal #2 was to get to 4:15 and goal #3 to at least make new PB finishing in less than 4:25.
Every meter is really painful at this point. Just to get 100m ahead is a struggle. My pace is still below 6:00min/km, or even 5:40min/km. I took a small empty bottle with arm band with me. I decide to fill it on next water station. I also decide to make a pit stop, although I could most likely survive without either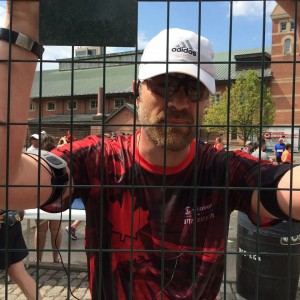 one, but when I check my watch, I was six minutes a head of my goal. I could afford a little luxury without sacrificing anything. It seemed possible I was getting finish time below 3:55 which is so much better than I would have ever imagined.
40k and there is only 2k left. Well, two very long kilometers, but even if I drop my pace to 7min/km, I'm going to finnish in less than 4 hours. For the last kilometer I'm able to run just a little bit faster and my pace was a little less than 6min/km where as my heart rate went over 170bpm.
I crossed the finish line. My official finish time and my PB is now 3:54:50. After the race I of course first drank a lot of water and sports drink. There was a plenty of refreshments including bagels, bananas, protein powered chocolate milk as well as yogurt. I took everything what I was offered, and then started to locate my wife and kids.

I have run in Ottawa before during business trips, so I knew how scenic the route was going to be. The route was relatively flat with just some smaller hills. The weather was also perfect before the sun really came up and started burning, but that's something I just have to be ok with. The weather was still so much better than I was expecting. It was almost optimal. Atmosphere was really great, and the spectators made their best to make runners feel welcome.
It was definitely the best marathon I've ever run, but of course, it must have something to do with the fact, that I was also able to reach my number one goal and finish sub four hours.
Next
I have already registered to Helsinki City Marathon which will be held at 15th of August. I'm thinking setting my goal to 3:45, but we will see about that. I have also started barefoot running. It would be really cool to run my next marathon with minimalistic shoes, but I don't think I have enough time to do the transition.